Why Does Trade Central Host Events?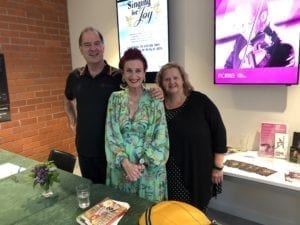 We have a warm and close relationship with our customers, and because we are a locally owned company we like to give back to the community that supports us.
Early in 2018 we conceived the idea of having an event that we could offer to our own past and existing customers, but as soon as we started talking about it, we found that everyone was interested in attending, whether they were customers or not.
Because we believe there are only two types of people in Nelson (Customers and people who will become customers), we decided to make our events open to everybody.
Our most recent event was presenting a talk by renowned author and television personality Peta Mathias at the Nelson College of Musical Arts. After mingling for 30 minutes everyone got themselves seated in the auditorium and we had 90 delightful minutes with Peta – not so much a talk as a wonderful conversation with a good friend.
The feedback from that event was resoundingly positive and encouraged us to bring Sir Graham Henry to Nelson, but due to unforeseen circumstances we were obliged to cancel that particular event – we hope you love the talk series. Watch this space as there will be other events in 2019