ELECTRICIANS IN NELSON AND THE TASMAN REGION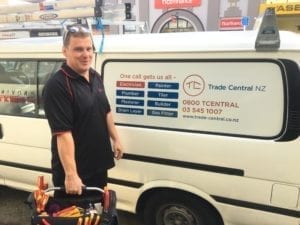 Domestic and Commercial electrical work is all in a days work for our team of two sparkies. If you are looking for an electrician in Nelson or the wider Tasman region, our team are also experienced in new building work, rewiring older houses, emergency repairs, interior and exterior electrical work, heat pump installations, and wiring your new house renovation or extension. Adding new power sockets or installing more lighting and or security lights outside are frequent jobs.
If your Hot Water Cylinder has just stopped working, that's most often a job for one of our sparkies.
Another favourite in these more ecologically-aware times is the installation of solar hot water heating, and the retrofitting of LED lighting in houses and commercial buildings – more efficient (and a nice surprise when the power bill arrives) plus they produce way less heat. Each of our electricians are Registered Electricians with several decades experience.
Our lead electrician is Nick (pictured) who has worked on large commercial and industrial projects as well as domestic work.  As a capable, all-round sparkie, he has the skills and experience for a wide range of work.
An after-hours callout service is available at very competitive rates.
"I just wanted to say a huge thank you for the fantastic service from your sparky Phil. It genuinely was the best tradie experience I've ever had. Everything that was important to me was taken care of; He was on time, honest and friendly, happy to explain everything, and he cleaned up! The whole process was completely stress-free for me. I will definitely be recommending you guys to everyone I know."Georgie Kerby.
Have a question?
0800 TCENTRAL

Tel

03 545 1007

Mail

help@trade-central.co.nz